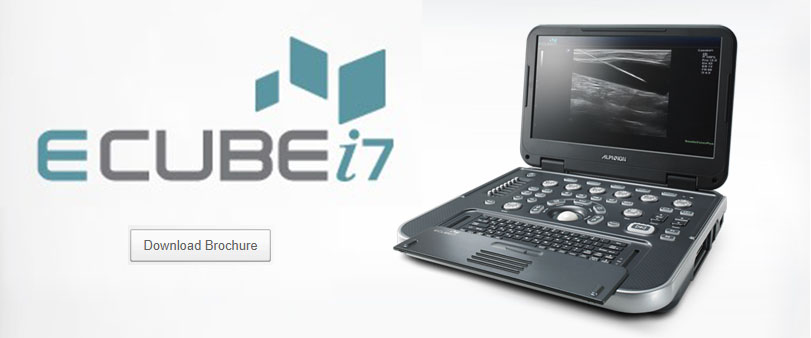 Innovation Meets Portability. Indeed.
Alpinion E-CUBE i7 cardiovascular portable ultrasound



Offering a powerful and stable cart-based system architecture and breakthrough design with sliding keyboard cover, the E-CUBE i7 delivers remarkably excellent image performance and comfort for optimal clinical environments.
The compact i7 is versatile, featuring application-specific imaging technology with advanced transducers. From the bedside to the procedure room, the E-CUBE i7 provides ease-of-use and workflow efficiency.
The innovative system architecture: The advantages of a cart-based system made the innovative protable system, E-CUBE i7. To overcome the shortcomings in image quality of a portable system, ALPINION built the E-CUBE i7 around a cart-based system's architecture. Thanks to this power and stable architecture, the E-CIBE i7 delivers remarkably excellent and uniform image performance throughout its lifetime.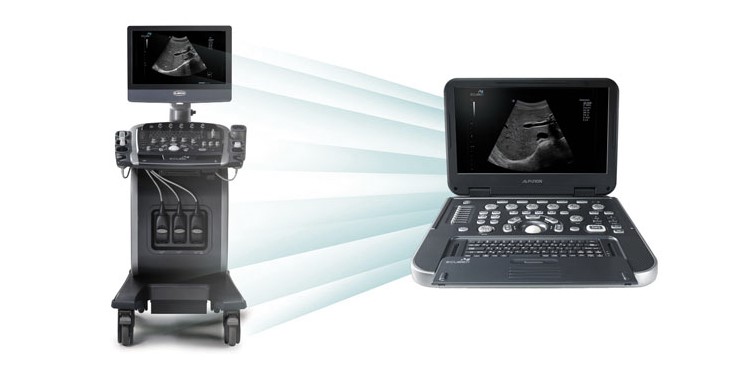 Crystal Signature, the high class single crystal transducer technology: Single crystal is a new kind of piezoelectric material which shows superior image quality. Crystal Signature, ALPINION's world leading single crystal technology, provides higher sensitive, better penetration, and less heat degradation than traditional PZT materials. With its single crystal phased array transducers the E-CUBE i7 fully supports various diagnostics including adult echo, pediatric echo, and pediatric abdomen.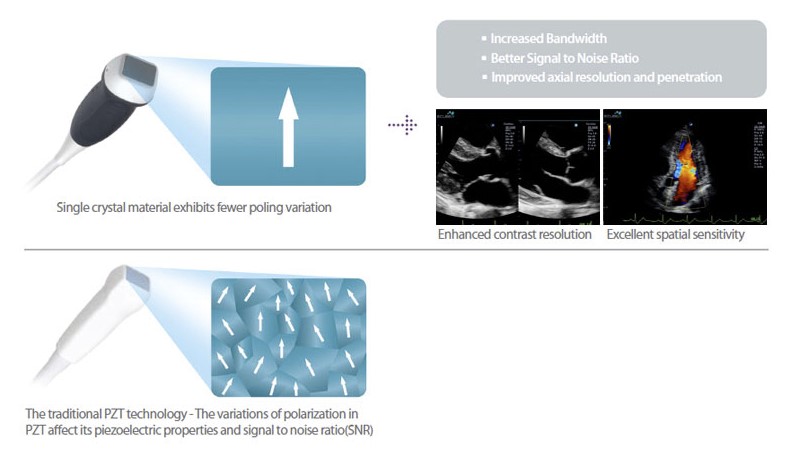 High-frequency enhanced linear transducer: The E_CUBE i7 features a high-frequency linear transducer. It is ideal for imaging for superficial, nerve blocks, and vascular procedures.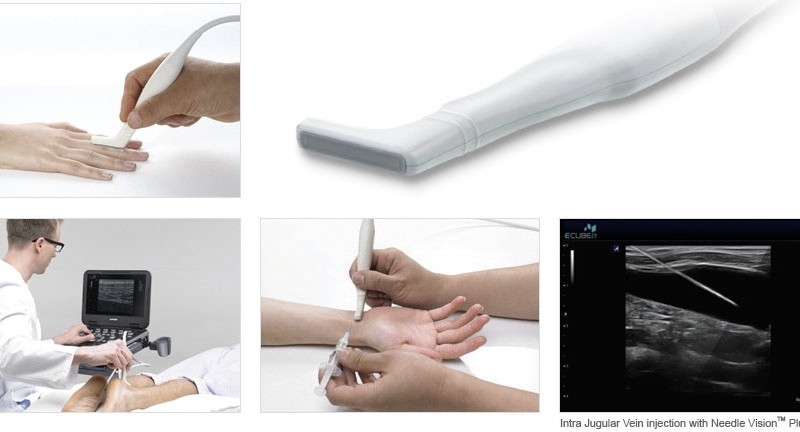 Optimal Imaging Suite: Optimal Imaging Suite, ALPINION's integrated image post processing software set, provides better border definition and increased contract resolution by reducing artifacts while maintaining true tissue appearance.
High-performance with Clinical Versatility
Complete patient care with a full suite of imaging software technologies and transducers.

Image Technologies
– Advanced Spatial Compounding Imaging (SCI)
– Harmonic Imaging (FTHI/PITHI)
– Speckle Reduction Imaging (SRI)
– 3D/4D Volume rendering
– Live HQ™
– Tissue Doppler Imaging
Software Technologies
– Needle Vision™
– Xpeed ™ (Auto Image Optimization)
– Auto IMT measurement
– CW(Continuous Wave)
– Panoramic Imaging
– Stress Echo
– CUBE View™
Transducer
– Convex : C1-6T, C5-8NT, VC1-6T
– Linear : L3-8H, L3-12T, L3-12HWD
L8-17H, IO8-17T, IO3-12
– Phased : SP1-5T, SP3-8T
– Endocavity : EC3-10T, EV3-10T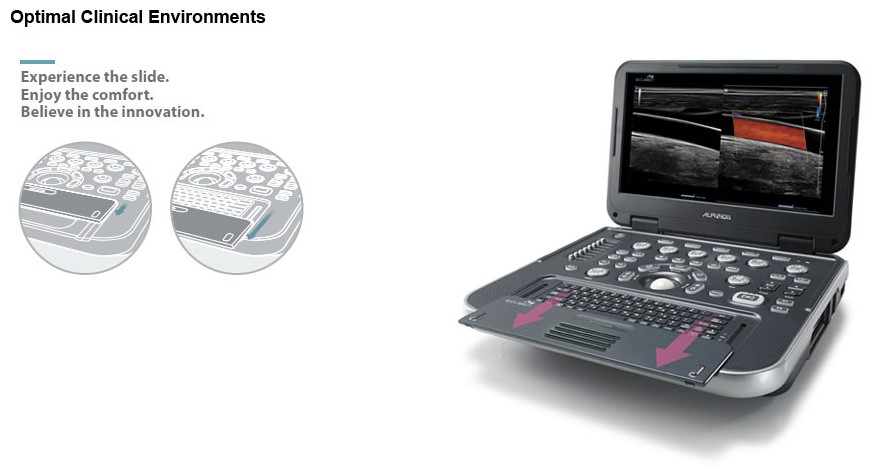 Sliding keyboard cover: More than 80% of sonographers experience work-related pain, and more than 20% of these suffer a career-ending injury[1]. The E-CUBE i7's user-centered design provides a solution for users who suffer the inevitable wrist pain. The unique sliding keyboard cover and the keyboard located closer to a user allow better support for a user's arms and wrists when typing. According to the study conducted by a Korea-based university hospital (Department of Orthopedics, Korea University Guro Hospital), users experienced dramatic reduction in pressure on carpal tunnel and msucle tension. Moreover, this unique cover prevents the keyboard from being polluted by dust, gel, fluid, and blood.

[1] Society of Diagnostic Medical Sonography. Industry Standard for the Prevention of Musculoskeletal Disorders in Sonography. May 2003.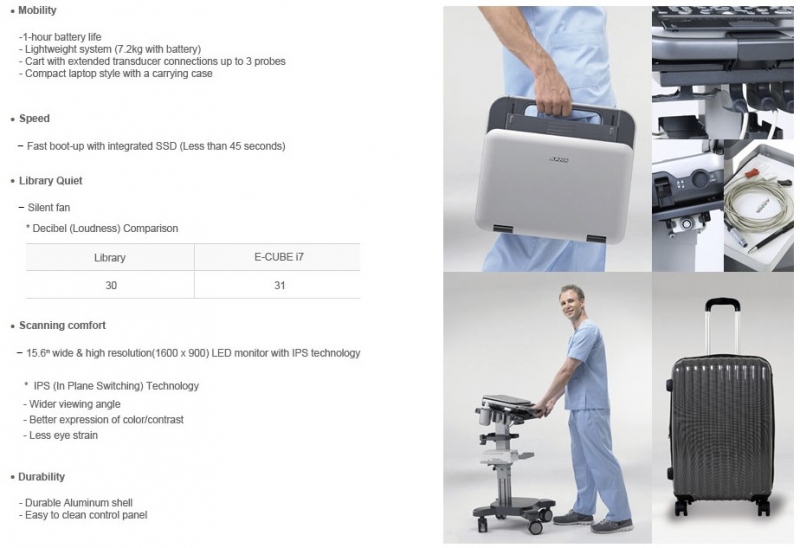 Clinical Images

(click image below to see all images)
Videos